Integrity. Accountability. Experience.
Calculate Your Blood Alcohol Level (BAC)
alcohol in the bloodstream. A BAC of .05% means the person has .05 grams of alcohol for every 100 mL of their blood.
As the liver metabolizes alcohol (at a rate of about one standard drink per hour), the BAC level drops unless more alcohol is consumed. A person's BAC is either measured with a breathalyzer, or by analyzing a blood sample. As the top DUI attorneys, we scrutinize every aspect of the BAC and make sure the tests are given correctly.
Fluid Ounces Consumed (Beer ~ 12 oz. Wine Glass ~ 4 oz. 1 Shot ~ 1.5 oz)

Your Weight (lbs)

Alcohol Percentage in Beverage (Beer ~ 4-4.5% Wine ~ 15-20% 1 Shot ~ 30-50%)

Hours Spent Drinking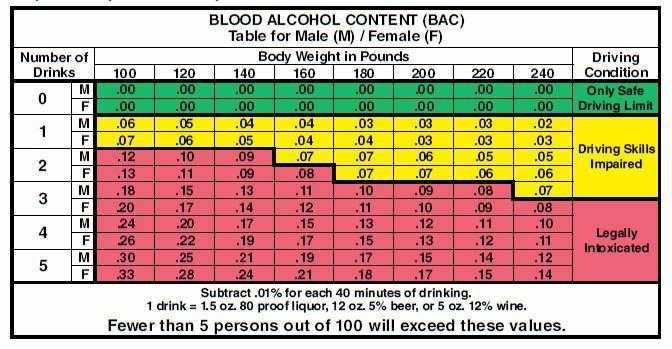 This table is to be used for entertainment purposes only. *
Factors Affecting Your BAC
The more a person drinks, the higher their BAC results will be. Two different people, who consume the same amount of alcohol, may have very different BAC results. Below is a list of some of the variables that are determining factors of your BAC.
Body Size

: A smaller person will have a higher BAC than a larger person because the alcohol is concentrated in a smaller body mass.

Empty Stomach

: Someone with an empty stomach will reach a higher BAC sooner than someone who has just eaten a meal. Food in the stomach slows down the rate at which alcohol passes into the bloodstream.

Body Fat

: People with a lot of body fat tend to have higher BACs because alcohol is not absorbed into fatty tissue, and the alcohol is concentrated in a smaller body mass.

Female

: After drinking the same amount of alcohol, a woman will almost always have a higher BAC than a man.
Because of these variables, counting the number of standard drinks you consume can only give a rough guide to your BAC.
* DISCLAIMER: The results generated by the BAC Calculator are rough estimates of an average healthy person's BAC assuming typical beverage sizes, recipes, and alcohol content. The BAC estimates generated by the BAC Calculator should not be used to infer anyone's fitness to work, drive or perform any other task or duty and is for entertainment purposes only.
Contact us today for a free consultation and find out how we can help.
"If at any point you find yourself in the need of a professional in Robert's line of work, I cannot urge you enough to contact him and at least have the initial meeting."
"I hired Rob to represent me and it was the best decision I believe I could have made. He actually won the initial DOL hearing for me (which is rare I understand now), meaning I didn't lose my license for 90 days as most charged people do."
I have worked with a number of attorneys throughout my lifetime in a number of different capacities. And I definitely consider Rob to be of the highest caliber
I have used Rob & recommended him to other people. Rob is one of the most dedicated & thorough professionals I have encountered. Very skilled & dedicated to his trade.
My only regret is not contacting Rob right after my arrest. This was my first arrest and I had no idea what to do or to expect. Rob is easy to work with.
I did everything Rob wanted me to do and wound up with an absolutely ideal outcome for my circumstances.
​​I was referred to the Veitch law firm by a friend. Robert was always upfront about the "dance" that had to occur in going to court. This was very helpful.
Rob is very knowledgeable in his field of law and was able to convey to me how we would navigate through the process.
Rob treated my case as if I was his only client. I could tell he put a lot of thought into everything he did to support me. Rob took a lot of the burden off my shoulders, and he helped me every step of the way.
I will continue to and have already recommended Rob Ault, as an attorney to others in my situation. I sincerely believe the outcome we received would not be what it was, had he not been my attorney and on my side.
I hired Rob to represent me, and it was the best decision I believe I could have made. He actually won the initial DOL hearing for me (which is rare I understand now), meaning I didn't lose my license for 90 days like most charged people do.
Good experience, happy with the case outcome, highly recommended. Rob is definitely who you want on your side in a case.
Amazing results, Rob gives you and your family the best legal services in the state. very professional and caring. 100% satisfaction with his services.
Rob successfully fought my DUI down to a Reckless Driving charge, and soon it will be dismissed off my record.
​​I couldn't have asked for a better person/attorney on my side. Not only did he help with any and all questions (and I had many) but he answered them with ease and promptly.
Robert Ault did an excellent job representing our college student throughout all the phases of a difficult case over the past year with a DUI charge and plea of not guilty.
I have never had, heard, nor seen any attorney working so hard for their client as Mr. Robert Ault did for me. He has my unwavering support and complete endorsement. I would highly recommend him to anyone seeking counsel for DUI/DWI defense.
Rob made a miracle happen in my case, I am glad I chose him. I talked to several other attorneys before him, and they said you are not walking out of this without at least a misdemeanor. Rob got it dismissed on one court day! He is definitely worth every penny.
2122 112th Ave. NE, Suite A200
Bellevue, WA 98004
20102 Cedar Valley Rd., Suite 104
Lynnwood, WA 98036
Selected as Super Lawyer for the past 7 years in a row
Successful Defense of Hundreds of DUI Cases
7 years as Super Lawyer
NHTSA training in both DWI Detection/Standardized Field Sobriety Testing (FST) along with Advanced Roadside Impairment Detection Enforcement (ARIDE)
Your First Initial Consultation Is Free
Dedicated to the Highest Level of Advocacy on Behalf of Their Clients
Each client is given their attorney's personal cell phone # and can reach out at any time
We Have Successfully Defended Hundreds of DUI Cases
Reach Out to Us as Soon as Possible to Get the Best Solution For Your Case
For a free consultation to discuss your pending case or other legal matters, please call us any time at
425-452-1600
or complete our online contact form. Our attorneys will explain the entire process surrounding your charge and remove the fear and uncertainty regarding your arrest. Our team should be your first call if you need a top-rated, dedicated, and responsive DUI/DWI or criminal defense attorney. If success in your legal matters is your only option, we hope that you will place your trust in top-rated Washington State DUI attorney Robert Ault.
Get Started with a Free Consultation